Design stunning web apps with our Angular Development Services
Angular Front-end Web Development
Talented Angular Developers
Collaborative Development Process
Building Dynamic and Lightweight Web Applications is Possible
Building Dynamic and Lightweight Web Applications is Possible
Angular JS lets you build web applications that are powerful, lightweight, fast, and highly optimized — only if you know the ins and outs of this web framework. At Codevian, we are proud of our Angular developers who are experts at what they do! With our team of top-notch Angular experts, we offer end-to-end development services that ensure exceptional quality and client satisfaction. Whether you require a new web application built from scratch, an existing one updated, or want to augment your team — our dedicated Angular developers collaborate closely with you to create customized solutions that align with your needs. Being an Angular development company, we make use of the newest tools and industry standards to create scalable, reliable, and effective online apps that are enhanced for usability and performance. By giving us the responsibility for your web application development requirements, you can concentrate on your main line of business while we handle the technical details. So are you ready to unleash the power of Angular?
All-in-one Angular Development Services
Angular JS App Design & Development
Our Angular developer can design and build customized web applications with responsive and user-friendly interfaces that meet your specific needs. 
Single-Page Applications (SPAs) Development
For visitors to navigate between sites without refreshing the page, our developers can create SPAs that provide a seamless and uninterrupted experience.
PWA development with Angular
Unlock the power of Progressive Web Applications with our Angular expertise, which lets you get cross-platform experiences by combining the best of web and native applications.
Our Angular consulting experts can help you gain insights and guidance, ensuring the successful implementation and optimization of your Angular projects.
AngularJS Cross-Platform Development
Our Angular developers focus on maximizing code reusability and efficiency to make a single codebase for multiple platforms including web and mobile applications.
Integrating Third-Party API
We help you integrate third-party APIs into your Angular applications and extend their functionality & data integration for a robust user experience.
Angular Support & Maintenance
You can count on us for reliable Angular support and maintenance services which let your applications remain up-to-date, secure, and optimized.
Angular Staff Augmentation
You can augment your team with our skilled Angular developers to accelerate project delivery, increase productivity, and gain access to Angular expertise for your development needs.
Why Choose Us as Your Startup IT Consulting & Solution Partner?
Our experienced Drupal web developers can develop a highly functioning, responsive and innovative Drupal website to 10x your online presence.
We can take your e-commerce to the next level with Drupal Commerce solutions that offers flexibility through third-party integrations and payment gateways.
Custom Modules Development
We can build distinct functionalities in Drupal that are not present in the core Drupal system or in existing modules to meet your evolving business needs.
Our team of UI/UX developers can create a custom design, layout, and code for a visually appealing, user-friendly website to meet your business's branding.
Drupal Responsive Design Service
Our team of Drupal developers can develop responsive websites that can adapt to all screen sizes, ensuring accessibility across laptops, tablets, and smartphones.
Website Maintenance and Support
We offer website maintenance and support services that involve updates, backups, security checks, and bug fixes to keep a website secure, up-to-date, and functional.
Drupal Migration and Upgrade
Migrate your website to Drupal or upgrade to a newer version effortlessly to improve functionality, security, and user experience. 
Drupal API/ Third-Party Integration
Connect external services such as social media and payment gateways and integrate third-party apps to enable automation and streamlined operations.
PSD to Drupal Development
Our team of Drupal web developers can help you convert your PSD designs into a responsive, optimized and engaging website.
Drupal Developer Team Augmentation
Augment Drupal teams with experts on-demand, with no recruitment or training expenses with our team Drupal team augmentation services. 
Our dedicated team can help you enhance search engine rankings and organic traffic of your Drupal website by optimizing website structure and on-page elements.
Hire our Angular Developers in 5 Easy Steps
Brief Us About Your Project Requirements
Share your project details and requirements with us so we can understand your needs and then tailor our Angular development services accordingly.
Angular Developers — Assemble!
Our team of skilled Angular developers is assembled, leveraging their expertise and experience to match your project requirements and ensure a successful collaboration.
Say "Hello" to your new team
Get acquainted with our dedicated Angular developers who will work closely with you, providing updates, insights, and solutions throughout the development process.
Once the project details are finalized, we kickstart development, following an agile approach, setting clear milestones, and ensuring effective communication for smooth project execution.
As your project evolves, we offer the flexibility to scale the team up or down based on your changing needs, ensuring optimal resource allocation and cost-effectiveness throughout the project.
Revolutionize Your App with Our Angular Expertise
Our Tech Stack for Angular
We use Angular CLI, TypeScript, RxJS, Angular Material, Bootstrap, and other cutting-edge tools and technologies in our tech stack to ensure effective development and high-performance online apps. We create scalable, responsive, and feature-rich solutions that adhere to the most recent industry standards and best practices with our carefully chosen tech stack.
Ionic
Mobile Angular UI
Angular UI Bootstrap
LumX
UI Grid
Suave UI
Protractor
Nebular
CoreUI
Onsen UI
NG-Bootstrap
Clarity Design Systems
Ignite UI
NG Lightning
 
RxJS
npm
Angular CLI
HTML and CSS
TypeScript
Why Choose Us for Angular JS Development?
Choose us for Angular development to benefit from our experience in building scalable and high-performing web applications. We provide great solutions that promote corporate growth and go above and beyond expectations because of our committed team of Angular developers, efficient development methods, and dedication to client satisfaction.
Hire our Angular JS Developers for Team Augmentation
Enhance your web application development capabilities by augmenting your team with our talented AngularJS Developers.
When your Angular projects demand resources, you can always count on Codevian for team augmentation services! With a talent pool of Angular JS developers, you can effortlessly integrate our developers into your team while we add value and expertise to your projects. Whether you need resources full-time, part-time, hourly, or on a project basis — we are always ready to increase your development capabilities and deliver optimal results (without breaking the bank!)
Scale up or scale down your development quickly without any hassle to save money and time.
Our programmers collaborate with your team, bringing new insights and creative concepts to the table. We make sure that your web applications are optimised for performance, scalability, and usability by utilising the most recent technology and best practices. This lets you save funds and time. So, tell us about your development project and get a talented team of Angular developers on board. 
WHAT OUR CLIENTS SAY ABOUT Codevian
Over 1200+ Satisfied Clients and Growing
Entire web development team attention to every detail of our design, layout, color pallet, branding, and presentation. Their communication and response time was excellent and they welcomed our input. Patiently heard all our concerns or recommendations. We continue to use Codevian for our future projects and we highly recommend them.
President and CEO Mckenzie Chase Management
Codevian team is amazing. My project was fairly complicated and I never had to micromanage. Yogesh and his team communicated perfectly what I asked of them and provided work that was above what was expected. Worth every penny if you want your project done right the first time.
Great Company This a great company. The pricing is great and they are smart, reliable and passionate. They offer great solutions to complicated problems. They are always available and very flexible.
A very professional and responsive approach to achieve customer goals. Developed Very high Quality BtoC Ecommerce app for our Bhaki Domian
AVP - IT & Engineering at Shemaroo Entertainment Ltd
The new tool helps the internal team save over two hours a day, meeting their expectations. Codevian Technologies Pvt. Ltd. provides a high level of customer service and support. The team is hard-working, creative, and dedicated.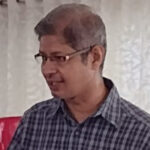 I have an excellent experience with Codevian's delivery teams. They have good, established processes to deliver a high quality product. More importantly, whenever there's any problem, the team is able to quickly respond and work towards the solution
Latest Updates from Our Experts
Got a question regarding Angular development? We're happy to help.