Welcome To Our World Of High End Web & Mobile App Design & Development
We are committed to design solutions that create rewarding Results
Experience World-class Agile Product Development
Harness digitized business solutions comprising web, android and iOS app solutions leveraging Blockchain, AI Chatbots, Machine Learning and IoT technologies for your startup or enterprise.
Build and deploy thriving agile solutions that help you design, develop, and scale.
Let's Start a New Project Together
Providing end to end web and mobile application development services, we take you from creating the initial concept and design all the way through to the development and final deployment of the product which will inevitably uplift your business
Web application development
Top Mobile App Development Company, Accredited By
Recognized as Top App Developers by Clutch.
Earned 99% of job success & "Top-rated Plus" Badge on Upwork.
Featured in the list of Top 10 Mobile App Development Companies.
Ranked as "Top App Development Company" by GoodFirms.
We helped 50+ Brands to grow their business and 20+ Startups to unleash their potential
We at Codevian Technologies helped Startups and Small businesses Ideate, design, develop and launch their Mobile Application Ideas while keeping in mind startup constraints such as cost and timeline in mind.
We offer highly flexible and customized engagement models to ensure the success and growth of your product. We offer project based, hourly and dedicated team based engagement models to choose from. Ensuring customer satisfaction and transparency throughout our engagement with each of the project.
If the scope and cost is fixed, Let's use this model!!. Provide us with the specific requirements clearly in written format to get started and pay as per the milestones defined. We provide milestone-wise delivery schedules. Consider it as one of the most effective and convenient models to cut down on your costs and stay within budget.
For a project that has a constantly-evolving scope and constantly-changing requirements, our Time & Material model is perfect.
Pay as per the actual man-hours used in developing the project. The cost depends on the total execution time of the project and the number of resources deployed
Hire dedicated web developers, web designers, mobile application developers. Just for the development purpose and keep the task and project management in-house. You simply need to pay a fixed monthly fee for each resource that you use.


Flexible 3 options:
Full time
Part Time
Hourly
WHAT OUR CLIENTS SAY ABOUT Codevian
Over 1200+ Satisfied Clients and Growing
Entire web development team attention to every detail of our design, layout, color pallet, branding, and presentation. Their communication and response time was excellent and they welcomed our input. Patiently heard all our concerns or recommendations. We continue to use Codevian for our future projects and we highly recommend them.
President and CEO Mckenzie Chase Management
Codevian team is amazing. My project was fairly complicated and I never had to micromanage. Yogesh and his team communicated perfectly what I asked of them and provided work that was above what was expected. Worth every penny if you want your project done right the first time.
Great Company This a great company. The pricing is great and they are smart, reliable and passionate. They offer great solutions to complicated problems. They are always available and very flexible.
A very professional and responsive approach to achieve customer goals. Developed Very high Quality BtoC Ecommerce app for our Bhaki Domian
AVP - IT & Engineering at Shemaroo Entertainment Ltd
The new tool helps the internal team save over two hours a day, meeting their expectations. Codevian Technologies Pvt. Ltd. provides a high level of customer service and support. The team is hard-working, creative, and dedicated.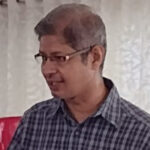 I have an excellent experience with Codevian's delivery teams. They have good, established processes to deliver a high quality product. More importantly, whenever there's any problem, the team is able to quickly respond and work towards the solution
Latest Updates from Our Experts